The MAD DOG MOVIES Podcast is an ongoing conversation about independent movies and how they're made.  Hear filmmakers Mike Boas, John Vincent, and assorted guests discuss their past experiences and thoughts about the future.
Some background on the hosts…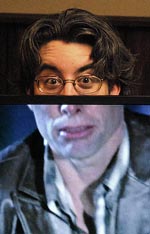 Mike Boas
Mike is a self-proclaimed movie geek with a particular love for horror films. Since 1998, he has worked on a variety of animated projects with Animatus Studio in Rochester. Mike also writes and animates his own pieces. His production of "H.P. Lovecraft's The Other Gods" played in festivals around the world and his Friday the 13th fan film, "Jason: The Rebirth," won top prizes at ManiaFest and NecroComicon events in California. When he's not memorizing facts about obscure cult films, he can be found blogging at MikeBoas.com.
John Vincent
John began his film career at the age of eight years old. Starting off with an old 8mm camera handed down to him from his grandfather, John animated small clay figures moving across his bedroom floor. John continued to make small films and study the art of filmmaking through his high school years. After studying animation at The Rochester Institute of Technology, he graduated from Monroe Community College with an associate's degree in Liberal Arts. John attended Brooklyn College for one year in the Motion Picture Production School and began to work professionally in the motion picture industry afterwards. He began as a production assistant and soon elevated to higher positions, working in virtually every department in the business. John's first screen credit appears on the low budget horror film The Refrigerator as part of the special effects crew. Since then he has worked on roughly a dozen feature films with countless commercials and industrial films.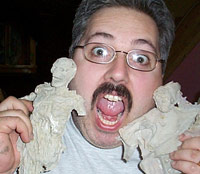 Around 1991, John moved from the east coast to Los Angeles and began working for David Allen Productions. David Allen was the creator of miniature and stop-motion animation effects. Here John worked on low budget horror and science fiction movies like Freaked (a cult favorite), and Full Moon productions such as Robot Wars, Doctor Mordrid and Prehysteria.
Following his stint in California, John moved back to his home town of Rochester, New York and founded Philrose Productions. He has since headed up art departments on productions in the upstate New York area. John was the effects supervisor on pictures like After Image (starring John Mellencamp and Louise Fletcher) and Tommy Hilfiger Entertainment's Proud (starring Ossie Davis). John also served as Art Director on Proud.
Currently John is working as writer/director on several projects that will be filmed entirely in the Rochester area.