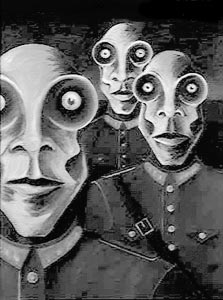 SUB-TER-RA-NE-A



NOUN.
1. The state of being beneath the earth; underground.
2. A subversive way of thinking.
3. An avant-garde movement or publication.
4. A basement apartment that inspired a way of life.
Subterranea Entertainment is a production arm of Mad Dog Movies. The aim is to create horror themed films and animation. Past projects include Jason: The Rebirth, and H.P. Lovecraft's The Other Gods.
For more info about Subterranea projects, see the Subterranea category in the Mad Dog Movies blog.
Follow the Mad Dog Movies Facebook Page
---
Subterranea Projects
---
Film Festival Promos
---
Night of the Living Dead: Reanimated

Subterranea is one of the many contributors to this worldwide art project. The idea is to take George Romero's 1968 zombie classic, which fell into public domain many years ago, and redo the entire feature in animation. Artists from all over the world are contributing scenes. The result will be a hodgepodge of styles, a crazy quilt art project that is tied together by the original audio track from Night of the Living Dead.
=> NOTLDR.com
=> NOTLD:R Facebook group
=> Go behind the scenes
=> Buy Through Amazon


---
Skeletal Remains
Skeletal Remains acts as both a tribute to classic horror movies and as a music video for 1970s rock group Aviary. (It was Matt Guarnere, a friend of Aviary's Brad Love, who first suggested I try such a film.)
Someday I'd like to work some animation into Skeletal Remains, but I've had friends tell me the current live action cut plays pretty well. My approach was to borrow (steal) scenes from public domain movies like The House on Haunted Hill, The Last Man on Earth, and The Screaming Skull, then remix them to depict a fun little horror story. Now I get to brag that my film stars Boris Karloff, Bela Lugosi, Barbara Steele, Glenn Strange, and Vincent Price!
Screenings to date:
---


A silent, black and white adaptation of the classic H.P. Lovecraft short story.
Screenings to date:
---

This animated fan film bridges the gap between "Friday the 13th" and "Friday the 13th Part 2."
Other Screenings