Find The Other Gods in The Darkness II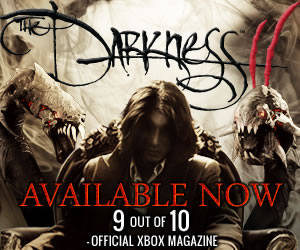 Perhaps you've seen the ads all over the web this week for The Darkness II, the horror game from 2k Games and Digital Extremes. The story of The Darkness (in comics and games) concerns an ancient evil from another dimension that aligns itself with a mob hitman. There's some hints of Lovecraftian ideas there, so it feels right that my film, The Other Gods, has a role in the new game.
The creative director of The Darkness II reached out to me several months ago to see if it would be possible to license The Other Gods for inclusion in the game. Of course, I said "yes." Apparently, players will have the option of watching (or ignoring) the entire 5 minute short in the game world. I'm assuming it appears on a video monitor or movie screen in the game — I haven't played the game yet, so I can't be more specific. I hope to share some screenshots online soon.
This has been quite a year for The Other Gods — it played at the Museum of Art and Design in NYC, as well as two screenings in Buffalo and a surprise appearance at the Halloween edition of Rochester's Emerging Filmmakers. Not bad for a film that premiered in 2006 (or 1924, depending on which version of events you choose to believe).
Find out more (and buy the game) at http://www.embracethedarkness.com