Exhausted Yet?
It's only been a short time since my last compilation post, and already I've got new projects to sum up.
UNMASKED
Mike Russo and I found ourselves making another 72 Hour film for the Mind 2 Movie Challenge. This year's improv elements: a closet clown, a bunch of bills, and a hostage situation. We'll be premiering the film (along with the 9 other contest entries) on Monday, March 7, at the Little Theatre.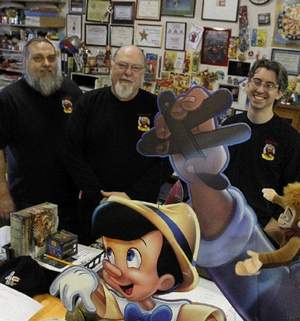 ANIMATUS IN THE PAPER
The D&C did a great article on Fred Armstrong and Animatus Studio, featuring a few pictures of yours truly working on the latest Buju & Ziggie cartoon for Wegmans and Crystal Pix. Read it online, or see the scan from the paper (with additional pictures) by clicking here.
THE MITZVAH
I'm providing post production assistance to this short film from writer/director Rose Jurman. It's a piece about doubt and regret, set during WWII.
ZOMBIE INTERVENTION
Franklin Kielar wrote and directed this horror/comedy. It's essentially a silent short, in which I play an undead father figure confronting a young vegetarian zombie. It was a fun shoot, done in one morning (but with two cameras) back in the fall. Now it's on YouTube, complete with outtakes.