Yes, That's Me At The Airport
It's about time for a run-down of my current projects.

AIRPORT SHENANIGANS
To begin with, I've been fielding comments from family and friends who've seen my face on giant screens at the airport. No, it's not security related, it's a short movie called Virgin Fang written and directed by Mike Russo. (I play Draculess, the Woody Allen of vampires. ) It's part of a media showcase put together by the Rochester/Finger Lakes Film and Video Office to showcase local productions.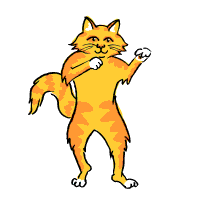 ANIMATUS STUDIO
Over at Animatus, our big project in 2010 was dancing cats for Wegmans' Buju & Ziggie cat food. More recently, Fred, Dave, and I worked with a group of Rochester teens to animate a music video about teen pregnancy and STD's.
SECRET ANIMATED SHORT
I'm contributing animation, drawings, and random textures to a mixed media film that Frank Kielar is directing. I'd say more, but we're keeping it quiet for now.
ROCHESTER MOVIEMAKERS WRITERS WORKSHOP
As a challenge to myself, I take part in the RMM Writers Workshop. I've written a few shorts in the past couple months, based on elements chosen at random. The "talking fish, lemon, argument in a laundromat" script was particularly fun.

MIND RIP
The Philrose horror feature Mind Rip is still cranking along. We held some auditions (more to come) for upcoming shoots. We're also designing and making creatures, plus planning a Kickstarter campaign to raise some art department funds.

POPCORN
I'm contributing website stuff and moral support to the Bells On Productions DVD release of Popcorn. It's a personal favorite of Kristy Jett, Horror Queen of the Internet and Fright Rags huckster. She's tracking down video elements and producing a behind the scenes documentary.

MERRY-GO-ROUND / 3.14
Back in the fall, I crewed on this feature from writer/director Gregory Gotham Smith. (It was once called Merry-Go-Round, now the name is changing to 3.14.) Now I'm editing, assembling the footage before continuing with the second half of the shoot — a week in the California desert later this year.

360 | 365
And then I go home at night and watch short films, trying to decide what we'll screen at the 360 | 365 George Eastman House Film Festival at the end of April.

THE INTERROGATION
When will I get the chance to do my own Lunchbox short? I'll have to squeeze that shoot in soon, then get to work animating the monster character.
Is that all? Certainly it's enough for now. Stay tuned for news of my impending bout with exhaustion.