A horrifying day in Buffalo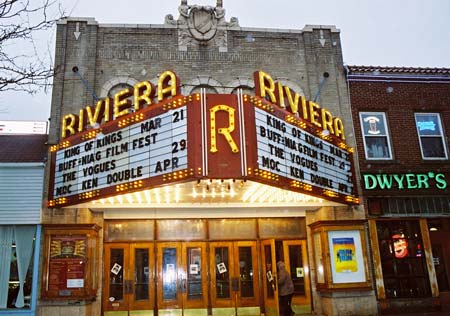 March 27th was Science Fiction, Fantasy, and Horror Day at the Buffalo Niagara Film Festival. John Vincent and I took a break from our busy lives in Rochester to check it out.
First off, I knew the venue was a killer one. I had been to the Riviera Theatre in North Tonawanda for a rock show recently, and it seemed like a great space for a film festival.
Turn-out was a little light at first, but keep in mind it was 11 AM on a Thursday. The first screenings consisted of short films. Here are a few stand-outs:
DISSOCIATIVE
A strange fairy tale about a girl who grows up in the wild, then takes Hollywood by storm when she emerges to make an art film. Some terrific photography and selective use of color. (That cave the girl calls home… isn't that the original Bat-cave?)
EVERYDAY JOE
Joe is a social outcast with a sleep problem and the worst comb-over ever. When people around him start turning up dead, it's up to Joe to solve the mystery and stop the murders.
SOUTHWESTERN ORANGE COUNTY VS. THE FLYING SAUCERS
An outrageous short with fun nickel and dime effects. A geeky kid who works at an amusement park is the only one who can stop a worldwide invasion. Great use of park locations and extras.
GLITCH
An amazingly dense sci-fi animated epic crammed into 10 minutes. Glitch recalls themes of identity seen in the Matrix and Philip K. Dick works, told in a professional 2D style. I wonder, did they use Toonboom Studio?
It was a pleasure meeting one of the festival head honchos, Greg Lamberson, again. Greg and I had crossed paths at Toronto's Festival of Fear last summer, where I picked up the soundtrack album to his multimedia project, JOHNNY GRUESOME.
Later that afternoon, local effects artist David Gray gave a brief demonstration of his work. He's worked on many regional low budget splatter films, including Johnny Gruesome. You can see more at grayeffects.com and aa-fx.com
Up on the second floor was the horror dealer area. There were tables set up for several local filmmakers, actors, festival guests, and vendors like Rotten Jack's. John and I met Emil Novak of Buffalo Nickel Productions, who has a few projects in the works, namely BANSHEE and TESLA THE ACCUMULATOR. We talked make-up effects, Lovecraft films, and local production work.
After lunch, Greg Lamberson hosted a panel discussion with filmmakers Roy Frumkes and Rodrigo Gudino. Frumkes is best known for his involvement with Street Trash and the Stepfather films. His documentary on George Romero has a cult following all its own, the latest cut of which would screen later that day. Gudino is the founder of Rue Morgue Magazine and Rue Morgue Radio, which is enough to impress me. He's recently been directing his own short films. The two filmmakers had plenty of stories to tell about production, screenings, and the film business.
Next up was a screening of Gudino's THE DEMONOLOGY OF DESIRE. This was the most accomplished short I saw that day. The production values, the acting, story, and out and out creep factor added up to a great film. DEMONOLOGY manages to be edgy without being sick for sick's sake. I'm looking forward to seeing what Gudino does next.
Then Frumkes presented THE DEFINITIVE DOCUMENT OF THE DEAD. Over the years, Frumkes has periodically updated his documentary covering the career of George A. Romero. The last version was released with Anchor Bay's Dawn of the Dead box set, but since then Romero has directed both Land of the Dead and Diary of the Dead. DEFINITIVE has some great behind-the-scenes footage from those two films, as well as many new interviews. The documentary should be released on DVD from Synapse Films later this year.
John and I were turning into pumkins at midnight, so our last screening was of the Herschell Gordon Lewis splatter classic, TWO THOUSAND MANIACS. John kept shaking his head, saying "I can't believe I'm going to watch Two Thousand Maniacs," but I had never seen it before. H. G. Lewis is one of those iconic figures that I know all about from books and interviews, but I haven't managed to see much of his work. So how was the movie? Shocking and low brow, but tons of fun. How can you not like a movie so chock full of banjo music? Like everything else screened that day, it was shown from DVD. That's disappointing, but I suspect film prints of Lewis' films are hard to come by. Herschell himself was in attendance to receive a lifetime achievement award. He's a smart and funny guy, and I managed to record a short interview with him for the MDM podcast. (Watch for it in episode 7.)
All in all, a good day, followed by a nasty drive home in a blizzard. (I've got to stop going on road trips in late March!)